The Problem with the GOP in One Hat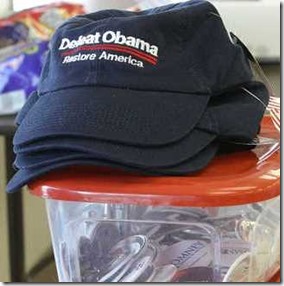 Prior to the 2012 election, our local paper ran a photo album of people at the GOP headquarters hard at work on the campaign. I found one photo particular telling. It was a picture of campaign supplies, buttons and hats. The hats said two things: "Defeat Obama" in large, prominent print and "Restore America" on the second line, in small print. I was surprised and disappointed that the hats didn't at least have "Vote Romney" as the first line, with "Restore America" and "Defeat Obama" as secondary messages.
I wish the Republican Party would have invested then – and would invest now – in developing a positive strategy for their goal to "Restore America" and not focus primarily on "Defeat Obama".  I also would hope that in such a positive strategy, the GOP would anticipate framing a policy platform for fairly governing all Americans, not one that increasingly alienates and marginalizes women, minorities, immigrants, LGBT citizens, the poor, and those who do not share fundamentalist Christian views. Their actions prior to the 2012 election and since have made it clear to me that the GOP is not capable either of tearing themselves away from their focus on "Defeat Obama" or of developing a positive strategy to "Restore America" – for ALL Americans.