Best Wishes to 2013 Mongol Rally Teams!
Squeee! The 2013 Mongol Rally launches on 14 July!
The Mongol Rally is a true adventure – covering 10,000 miles overland with no set route, from Europe to Ulaanbaatar, in tiny, tiny little cars. It takes about 40 days and to say that it is challenging is a considerable understatement.
One of many pleasures from my first month-long trip in Mongolia was meeting some of the crazy teams from the Mongol Rally while we were working at the border crossing in Tsagaannuur in western Mongolia. Some of the teams were there for three days waiting for approval on paperwork.
We enjoyed seeing the caravan of vehicles waiting at the border crossing, with their vehicles covered in abundant stickers, photos, signatures, and the decals of their logos. My two favorite logos were "Genghis Khanuck and the Eh Team" (from Canada, get it?) and "Two Chicks, One Car, 10,000 Miles of Trouble".
I was impressed at how easy going and mellow the teams were, considering they had been on the road for nearly a month by then, and in some cases had spent several days at the crossing into Mongolia. I think the frustration of dealing with the inevitable administrative issues that come up would drive me over the edge. But not for the fine folks we met!
Group photo with members of the very charming and congenial Spanish Mongol Rally team before they attempt to take their ambulance across the mountain pass, south of Tsagaannuur.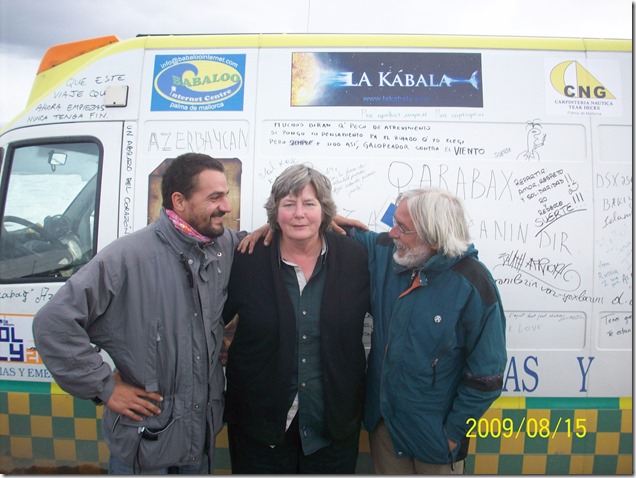 My colleague, Dennis McQuerry (below, back to the camera) talking to others on the Spanish team. Note the snow in the background – in the middle of August!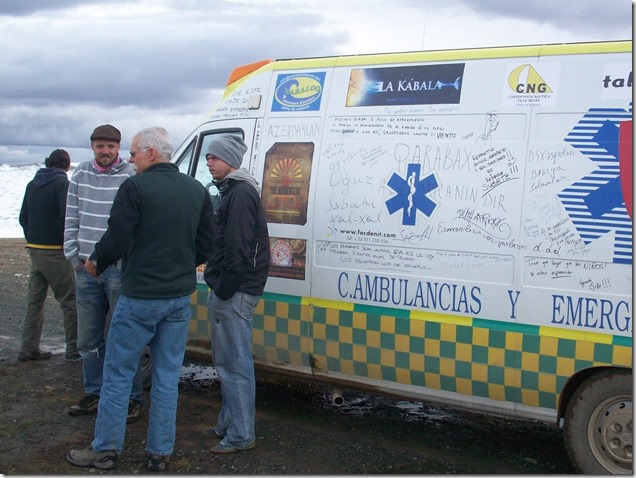 We were glad to learn that the Spanish team had made it across the pass when we saw them at Pamukkale, a favorite Turkish restaurant in Olgii.
I am more than a little bit envious of the adventure that the 2013 Mongol Rally teams are about to undertake. I am sure it will provide a lifetime of memories for them!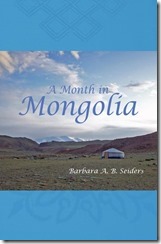 If you'd like to see and learn more about the beautiful and exotic country of Mongolia, the finish line for the Mongol Rally, check out my book, "A Month in Mongolia".